Sony Ericsson announced
SmartWatch
which is a micro display for
Android
to wirelessly access calls, messages and applications. It is compatible on
Xperia arc S and Xperia S
. Smartwatch is announced at International Consumer Electronics Show at Las Vegas along with the release of Xperia SmartTags and Smart Wireles Headset Pro.
The new Sony SmartWatch comes packed with a OLED touchscreen display with 9 distinct touch points. The device measures 36mm x 36mm x 8mm in size and weighs 15.5 grams. This device interacts with the smartphone using Bluetooth technology and one can go roughly one week between charges with low usage. Sony Smart Watch can store upto 255 widgets and a totally customizable and the device comes in a dust and splash proof (supporting IP54). Some of the important widgets take care of Facebook, Twitter updates, Time and date, SMS, email, Call handling, Music handling etc. This device comes with wrist band in different colors and this can even be used as a clip. Though there aren't specific dates announced, Sony SmartWatch is expected to hit the market somewhere in Q1, 2012 and will cost $149.
Sony has resurrected an accessory that really didn't fair well the first time, a smart watch. Originally falling under the Sony Ericsson brand, the LiveView was the first time we got a taste of a remote display watch product that could be worn on the wrist showing features similar to one's own smartphone. Like a watch, the SmartWatch tell you the time, but it can also display incoming calls, text and email messages, social network status, and even control your phone's camera.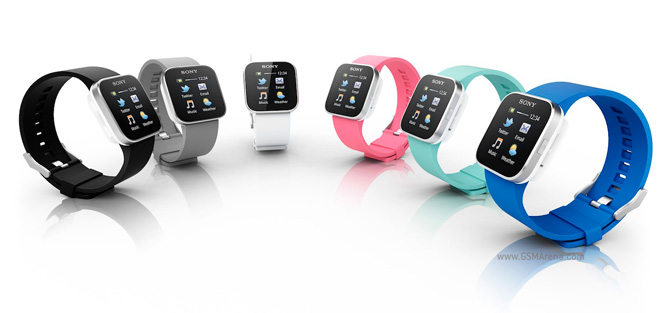 You move through the product using swipes and one- or two-finger tap gestures. Mini-applications, of which the phone can hold 256 and comes with 15 pre-loaded, can be easily run from the SmartWatch, and they often interface with related apps on your phone, such as EndoMondo. You can also control your phone's music player, remotely control (and view!) your phone's camera, and handle call related tasks.
Sony's representatives indicated that the battery on the SmartWatch is expected to last from two to four days and that the watch itself is expected to debut globally around the end of March for approximately $149.
The wrist device features a 1.3" OLED display, the screen can be applied to any type of wristband of your choice. The watch obviously takes power, so how much? Well apparently the Sony SmartWatch can last a week with it using very low power usage, which is far more than I would have expected, however if you are using it enough I'm sure it won't last that low for the everyday user. The watch is powered by a specially designed version of Android of which allows you to download apps specific to the device.
Remember when everyone was strapping those iPod nanos to their wrists? Sony saw an opportunity for a product there, and it's the Sony Smartwatch.




Technically, the SmartWatch is just an accessory, not a standalone device (unless you only want to use it as a watch), but it's still a sweet little gadget. The device connects to your smartphone via Bluetooth, notifies you of things like incoming calls and emails, and allows you to respond.




The SmartWatch has a 1.3-inch OLED touch screen (128 x 128) and works with most devices packing Android 2.1 and up. The dust- and splash-proof SmartWatch comes with a black rubber wristband, although there are five other colors (pink, white, mint, grey, and blue) you can choose from, as well. The device just clips on the wristband, so there's really nothing preventing you from attaching it to something else equally convenient.




For $149.99, the SmartWatch can be yours, and you'll no longer have to strap that big old Android smartphone to your bicep when you're out for a run.







Store your Smartphone: SmartWatch from Sony Brings Android Power Straight to Wrist

Innovative Android™ accessory from Sony allows you to stay connected when your phone is stowed in your pocket or bag




Sony Mobile Communications announces the availability of its new SmartWatch, a wearable device that extends the power of Android smartphones by sending timely and personal information from your smartphone straight to your wrist. A vibration and screen alert notifies you of key events, like an incoming call. It also allows you to read texts and emails as well as receive Facebook™ and Twitter™ updates – all from your wrist.




SmartWatch from Sony connects to Android smartphones via Bluetooth™ giving you the ability to control key functions without removing your smartphone from your pocket or bag. With just a tap, touch, and swipe, SmartWatch turns from a watch displaying the time to a remote information center for your Android smartphone.




A growing number of apps are available for download through Google Play – including those for social updates, workouts and music – all customized for the 1.3-inch OLED SmartWatch touch screen. While SmartWatch works with these existing apps, Android developers can create apps specifically for the device. SmartWatch works with most Android (2.1 and above) smartphones.




"SmartWatch is the first of many Smart Extras that seamlessly connect and expand the smartphone's reach and user experience," said Paul Hamnett, President and Head of Customer Unit, North America, Sony Mobile Communications. "Designed to break free from the single screen experience, SmartWatch provides access to live content and entertainment on the go."




The durable SmartWatch is dust proof and splash proof and comes with a black rubber wristband included in the box. Wristbands in five additional colors are available for purchase. SmartWatch's design includes a rear mounted clip, so it can be removed from the wristband and attached to clothing or a belt.




At launch, SmartWatch has a suggested retail price of $149.99 and will be available at http://www.sony.com/smartwatch and Sony stores. SmartWatch availability at additional retailers will be announced soon.




SmartWatch is part of Sony Mobile Communications' strategy to create Smart Extras that make Android smartphones smarter.




Key Features of Sony Xperia™ SmartWatch:




Dimensions: 1.42 X 1.42 X 0.3 in

Display: 1.3" OLED display, 128 x 128 pixels

Compatibility: Bluetooth™ 3.0 and Android™ 2.1 or above

Connectivity: Standard USB charging

Battery life: Up to 4 days

Language support for: English, Spanish, French, Chinese (Traditional), Portuguese, Swedish, Russian, Danish, Polish, Japanese, Czech, German, Modern Greek, Dutch

Notifications: Display notification or vibration

Apps: All events (displays in chronological order), Messaging (SMS/MMS), corporate E-mail (for Sony™ and Sony Ericsson Android phones), Gmail (for all other Android smartphones) Calendar Notifications, Facebook™, Twitter™, Music Player, Call handling (call, mute, reject, or answer and send pre-defined SMS), Pre-defined SMS, e.g. missed calls – I'm busy, messaging - call me, email – ok, Battery strength, Find phone, and Weather widget. Plus lots of apps on Android™ market.

Additional SmartWatch bands available in pink, white, mint, grey and blue

From : hothardware.com